HCA SaaS Update – February
Responsible author: Kasper Lihn Head of Research, Growth
15 March 2023
Small rebound continued in February despite rising interest rates

Our HCA SaaS ARR Multiple Index, measured on a simple ARR multiple (median) across 19 Danish listed SaaS companies (see appendix for methodology), increased to 4.7x ARR by the end of February 2023 from 4.3x ARR by the end of January 2023.
Looking at the market-value weighted share price performance across the sector (ex. SimCorp), we also observed a minor rebound, yet it is still on index 19.7 compared to the sector's high in 2021 from January 2021, where we started to track the Danish SaaS sector.
For perspective, the larger and more liquid US-listed SaaS companies – measured by The SaaS Capital Index (annualized current run-rate revenue) – also increased slightly to 7.2x ARR by the end of February 2023 (from 7.1x ARR by the end of January 2023). From a macroeconomic perspective, the US 10Y bond yield increased to 3.93% by the end of February 2023 from 3.51% by the end of January 2023. Overall, this, all else equal, has a negative effect on growth stocks, including SaaS companies, but better-than-feared fundamentals somewhat balanced the development. Moreover, the AI hype/attention also brought some positive flow to the sector. Yet, the 10Y bond yield, highly driven by the high inflation rates, is still a concern for growth-oriented SaaS companies, as seen in the share price development into the beginning of March.
First Danish SaaS 2022 results out and guidance for 2023
Overall, only a few of the Danish SaaS companies reported their financial report for 2022 during February. Most reports will be announced during March. However, we have seen reports from some of the larger listed Danish SaaS companies such as Agillic (Marketing Technology) and Penneo (Digital Signature and KYC).
Looking overall at the sector, 2022 was characterized by comments on prolonged sales processes/cycles and uncertainty, which have led to downgrades of guidance and lower growth rates than initially expected. This was also the case for Penneo, and guidance for 2023 looks similar to 2022 with ARR growth expectations in the range of 23-34%. Watch the management presentation here.
For Agillic, however, this has not been the same tendency after three guidance upgrades on the top line, growing total ARR with approx. 38% in 2022 (however, primarily driven by transactions and not core ARR from subscriptions). After being hit by its customer mix tilted towards travel & leisure in 2020, the company has changed its strategy, both accelerating its growth rates while maintaining its focus on achieving positive EBITDA and positive cash flow from operations. In 2023, Agillic continues with this focus and expects to grow its ARR subscriptions by 22-29% in 2023 (total ARR growth is expected between 16% and 24%). More relevant for a SaaS company with investments in R&D, Agillic also added the financial goal of achieving positive cash-adjusted EBITDA in 2024, indicating that Agillic will achieve positive free cash flow, which is important in the current market environment, also looking at how investors value profitability vs. growth. Watch the management presentation here.
Main news from the US/global reporting season
The main news of the US SaaS Sector this month has been the tendencies and the many signals from the current reporting season, which is ahead of the Danish reporting season. Furthermore, it is hard not to get around the AI hype, which has been the main focus of many of the company presentations, although it has not been a driver of growth in any comprehensive way.
The main picture of many reports from different companies has been that the current quarter has delivered compared to analyst expectations, with only 5 out of 55 companies missing on the topline (manually collected data from Clouded Judgement). This picture looks almost the opposite when looking at the guidance for the upcoming quarter. Looking at the next quarter's guidance, only 14 out of 55 companies gave better guidance than analyst expectations, and the majority missed compared to the estimates. Furthermore, the few beats were insignificant, while there were some hefty misses. All in all, it paints the picture that growth is slowing down in 2023. Looking at which types of companies (end markets) with the most beats, cyber security is a clear winner. This is not so unexpected, as this sector is one of the most isolated from the current macro/technology uncertainty.
One specific company story to pay attention to might be Salesforce. The short-term results themselves were not that great compared to estimates. However, much sharper capital allocations and cost focus could lift margins and payout to shareholders. This should be a reminder to investors about the road to profitability might not be so long for SaaS companies due to, among other things, their high gross margin.
SaaS M&A activity continues
Looking at the M&A activity, we are still seeing that private equity funds are hungry to buy listed SaaS companies. In the United States, Thoma Bravo is very active and has recently announced an offer on Coupa Software (announced in December 2022).
In the Nordics, we have seen lower multiples. Looking into the news flow from the beginning of March 2023, Norwegian-listed PatientSky Group, which is an E-health company, announced on 5 March 2023 that the company has entered into an agreement with EG Norge AS to sell its SaaS business. With an enterprise value (EV) between NOK 850m and NOK 900m and a total annual recurring revenue (ARR) of NOK 191m by the end of 2022, the SaaS business was traded to a multiple of approx. 4.6x ARR based on midrange. PatientSky still expects to be listed going forward, as the sale was only for the SaaS business.
Earlier in August 2022, EG also announced that the company acquired Norwegian-listed Ørn Software, which is now de-listed. At that time, the latest Q1 2022 results showed a total ARR of NOK 238m. The offer price corresponded to a market capitalization of approx. NOK 620m on a fully diluted basis. Including net interest-bearing debt, the enterprise value was approx. NOK 870m. Based on these calculations, the EV/ARR multiple was approx. 3.7x, and simple ARR multiple (P/ARR) was only 2.6x. EG is owned by the private equity fund, Fransisco Partners, which acquired EG in the spring of 2019 for DKK 3.7bn from the Danish private equity fund, Axcel. EG is a market-leading SaaS provider of vertical software for private and public customers in the Nordics, and the company has acquired several companies over the past years.
Appendix
As several Danish SaaS companies have been listed on the Danish stock market over the past years, we have seen an increasing interest in benchmark data and insights into the recent development of SaaS metrics and multiples as well as news from the space.
We are fully aware that no SaaS companies have similar business models or similar reporting standards, as there are no regulated standards yet for SaaS metrics such as ARR, net revenue retention rate, churn rate, etc. Nevertheless, we do not have any public information to align all metrics, implying that we must use the metrics reported by the companies in their annual reports. Consequently, our information and benchmark data should be assessed carefully before taking any conclusions or decisions. That being said, we are active in a working group that provides recommendations for how to measure and report the metrics to investors in the most appropriate way.
The HCA SaaS Index: Our HCA SaaS Index is inspired by the US-based The SaaS Capital Index, which tracks the median ARR (latest reported annualized current run-rate revenue) multiple across US-listed B2B software companies based on their market capitalizations by the end of the month. This implies that there are timing variations in the latest reported ARR, and the multiples do not account for differences in cash position and debt structure. Please be aware that the US-listed companies are typically significantly larger companies with a global presence than the companies that we are tracking in Denmark. Despite the ongoing focus on profitability as well as cash positions and not only growth in SaaS companies, SaaS companies are still valued on a multiple of their ARR or revenue. Currently, this is the most relevant multiple to compare across the sector, since most SaaS companies are not profitable yet.
Our index currently consists of the following 19 companies below which have reported ARR over the past year. However, we expect to remove some of them if one or more of the companies do not report their ARR in the upcoming annual report for 2022. As mentioned in the introduction, we will provide more benchmark data with data tables going forward.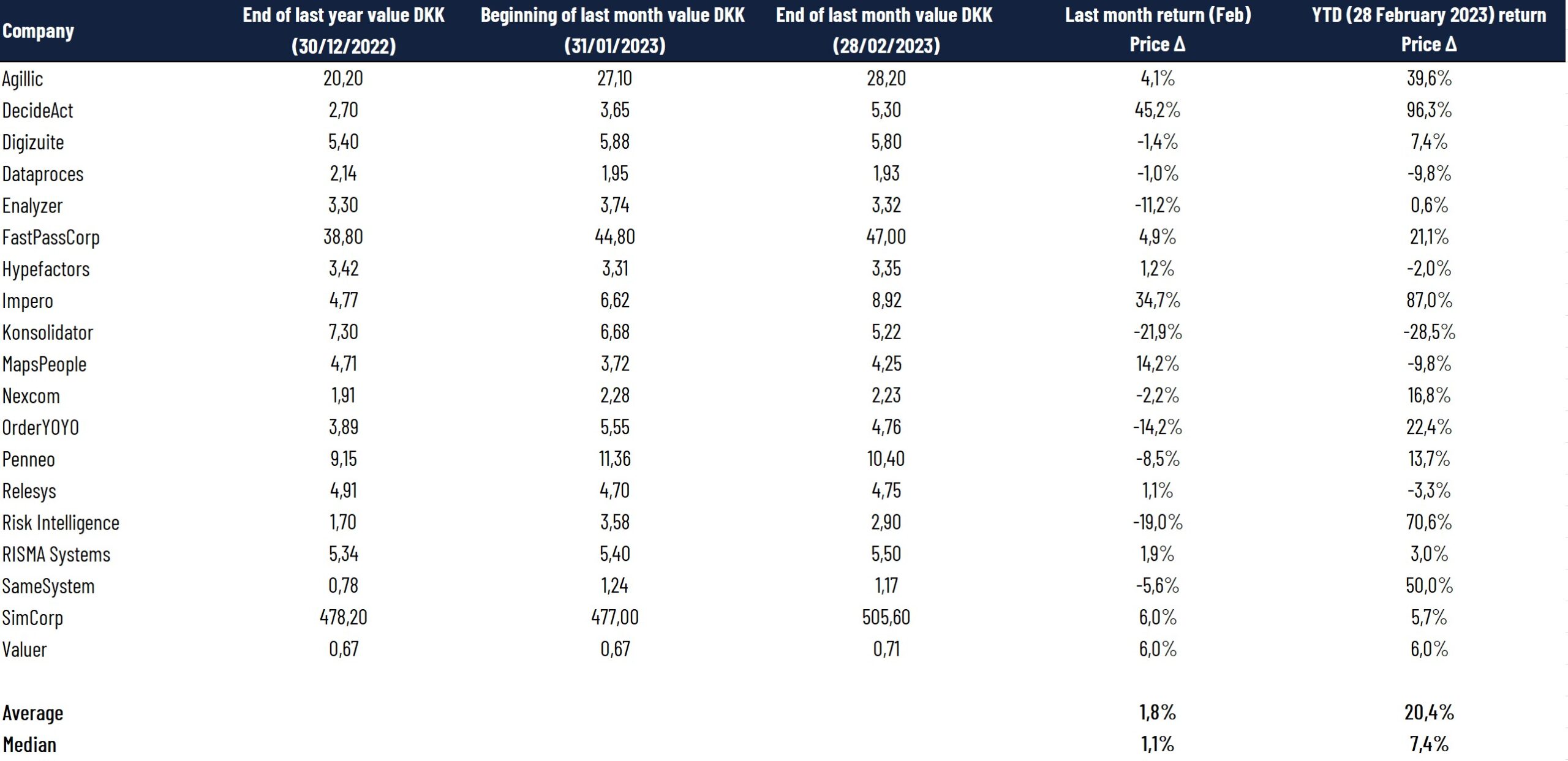 Specifically, we are calculating the market capitalizations for 19 Danish listed SaaS companies by the end of each month. We divide each company's market capitalization with their latest reported ARR (which may differ between the companies, i.e., some have newer numbers). Based on all the multiples, we calculate the median value for our index. Almost all companies have been tracked for at least a year (the latest SaaS IPO in Denmark was in December 2021). This has not caused any considerable differences in the historical numbers of the ARR multiple, since we are using the median value. We do not track the median before 2021 as the index consisted of relatively few companies reporting ARR, and many SaaS IPOs were during 2021.
The HCA SaaS Share Price: Our "HCA SaaS Share Price" shows the share price development weighted by the market value of an index of Danish SaaS companies that reports ARR. SimCorp is excluded as the company outweighs the sector with its market value of more than DKK 20 billion. Data for the index is provided by Refinitiv.
Disclaimer: Disclaimer: HC Andersen Capital receives payment from some of the mentioned SaaS companies (Agillic, Impero, MapsPeople, OrderYOYO, and Penneo) for a Digital IR/Corporate Visibility subscription agreement.