Deceleration of growth may have reached a plateau for now
In late July, Microsoft (Azure) and Google (Google Cloud) reported their Q2 earnings reports. Azure cloud revenue grew 26% YoY (from 27% in the previous quarter), and Google Cloud kept its growth rate at the same level of approx. 28% YoY. However, the cloud market leader, Amazon, still saw a deceleration of its growth rate in AWS with 12% YoY growth in Q2 (16% in Q1 2023). This was above analyst consensus, however, the slowest growth since 2015, when Amazon started to report its cloud revenue separately. However, with more focus on profitability, the earnings report was well received by the investors.


Looking at one of the large SaaS companies in the sector, ServiceNow, the IT service management software provider grew its subscription revenue by approx. 25% YoY and provided an optimistic outlook for the second half of 2023. Thus, there are some early signs that the ongoing optimization of usage in enterprises may be closer to "normal", and the general deceleration of SaaS growth rates has reached or is closer to a plateau for now.


Rebound to the US SaaS share prices – not seen in Denmark yet
Whether sector median growth rates are bottoming out now or in the coming quarters, we normally see that the stock market moves before the fundamentals. With some of the larger US software companies making a comeback in H1 2023 from their low share price levels in Q4 2022, expectations for higher growth rates are somewhat also calculated in the current stock prices after the strong development in H1 2023. That said, the median ARR multiple (latest reported) is still at a relatively low level, as net new ARR has increased for many companies in the first half of 2023.


Now, zooming into the Danish SaaS sector, we see different patterns, as the stock prices have not increased to the same extent across the sector. This may be explained by different factors such as 1) smaller company sizes (earlier stages of the lifecycle), 2) more dependence on raising new capital and access to capital markets, and 3) more illiquid stocks. Importantly, we have also seen that Danish investors are more cautious in the growth segment, and investors returning to invest in the stock market may take their first steps into larger and more solid companies.


ARR growth rates in the Danish SaaS sector indicate positive H1 2023
Despite an increasing focus on capital efficiency and improved profitability in the market, we will revisit the growth rates in the Danish SaaS sector, as growth is still driving much of the value creation among the smaller growth-oriented SaaS companies. We have collected data from all 17 companies with ARR numbers back to 2022 to track the year-on-year development. The first early indications from Q2 trading updates by OrderYOYO and RISMA showed positive momentum, growing 47% YoY and 55% YoY, respectively, as covered in the recent newsletter. As shown below in the overview, the median ARR growth rate in Q1 of 31% was above the full-year 2022 level of 28%. Overall, the Danish SaaS companies are also ahead of their guidance (midpoint) for 2023 when looking at the YoY growth rate. Looking into August, several Q2/H1 reports as well as management comments will provide us with a clearer picture of the recent development and the outlook for the second half of 2023.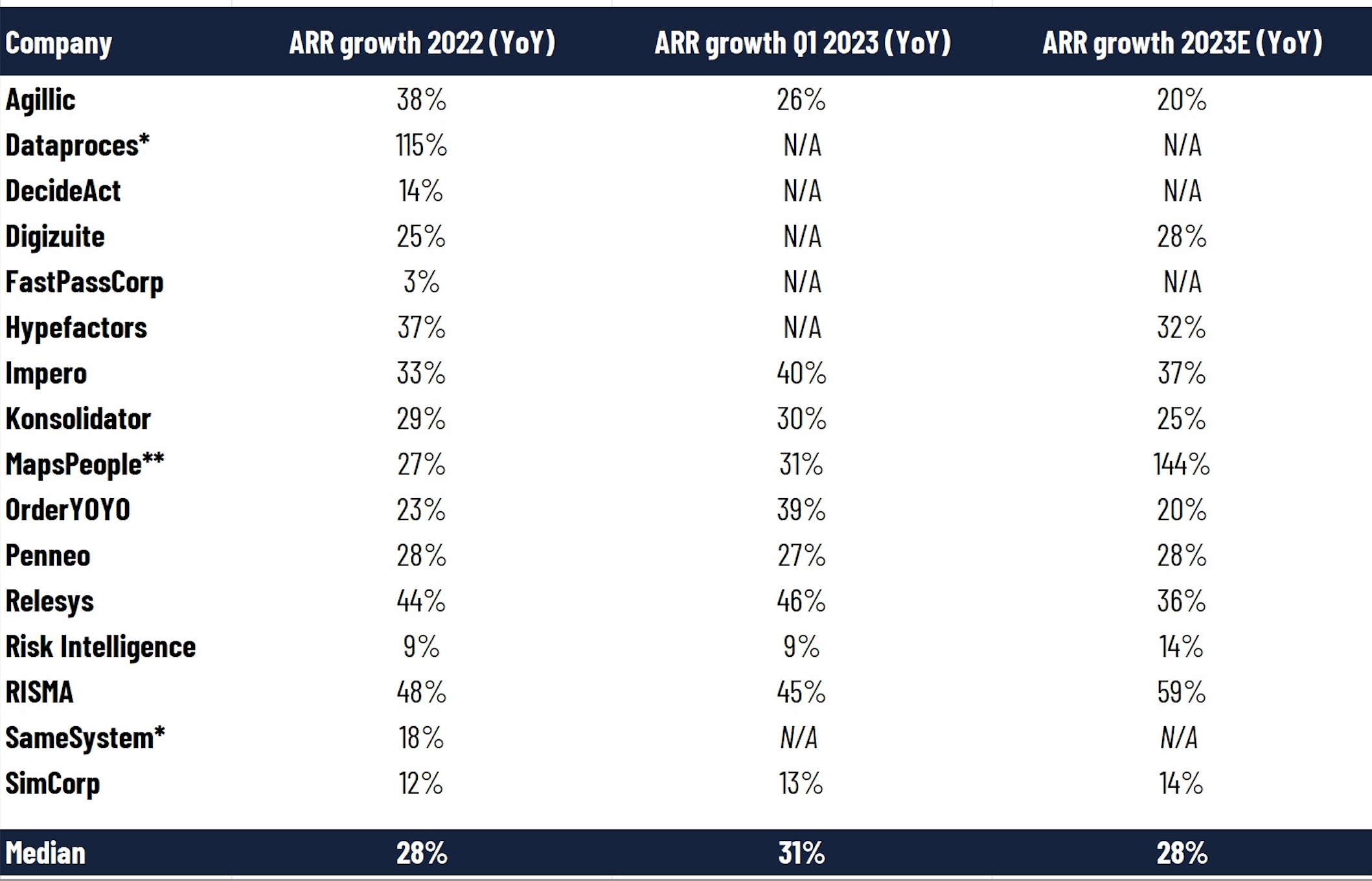 *Companies have an accounting period that does not follow a regular calendar year. SameSystem's growth rates are marked as "N/A", as we do not have sufficient comparable ARR data after the company introduced a new methodology in 2023. **MapsPeople's 2023 guidance includes the acquisition of Point Inside and expectations of growing ARR significantly during 2023 following a high order book. Source: HC Andersen Capital and company reports.